In 1970, Don Bonham first organized the Hermen Goode team in London,
Ontario. Bonham, one of Canada's first performance artists, set up a
series of events where he built the sculptures and took them to sites, such
as the Bonneville Salt Flat's speedway and the Detroit Hydroplane races.
While doing the performances, he filmed the events as a final art form.
The following are images from five such events, ending with the Music
event at the Toronto Harborfront Gallery, "PROJECT C32".


1. Hermen Goode's First Flight: London, Ontario, Canada





2. Bonneville Salt Flats: Bonneville, Utah

Bonneville Machine

In August, 1972, the Hermen Goode Aesthetics Racing Team journeyed
to Salt Flats, Utah, to participate in the 24th National Speed Trials.
On the 21st of August, with all conditions go, Leroy Goode made his first
attempt at the World Speed Record. However, the Goode Brothers were
unable to get the machine to start and were disqualified.





3. Miss "50" at Detroit: Detroit, Michigan

Spirit of Detroit

Detroit, Michigan, 1973, On September 7, 1973,
the Aesthetics Racing Team (A.R.T.) made their first attempt to
bring the trophy back to Canada at the Spirit of Detroit hydroplane
races. Hermen and B.J. had come up with a completely new
design in hydroplanes. Aided by the Engineering Department at the
University of Western Ontario, B.J. was able to adapt a high powered
7 1/2 HP Mercury outboard engine for the craft. Leroy piloted
"Little Miss 50", the Spirit of London, with amazing results
during the time trials. Unfortunately, just before the race "Miss 50"
ran into a series of mechanical problems and was unable to qualify.





4. Test flight of the CFX-1: Tallahassee, Florida

The Flight of CFX-1

In 1974, the Goode Team took on the task of designing a short landing,
short takeoff aircraft with low fuel consumption. They finally settled on
utilizing the original design of the Messerschmitt Me 163. In the Spring
of 1980, the aircraft was completed and the Team held the first testing in
Tallahassee Florida. The test flights were negative to say the least. No
further testing was planned and aircraft was destroyed.





5a. "Project C32": Jacksonville University, Jacksonville, Florida




5b. "Project C32": Harborfront Gallery, Toronto, Ontario, Canada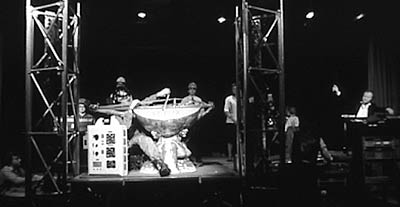 Top of page




Copyright © 2003, DonBonham.com, All Rights Reserved.